The University of Kentucky Public Relations & Strategic Communications Office provides a weekly health column available for use and reprint by news media. This week's column is by Dr. Stacie Maggard, assistant professor at the University of Kentucky College of Dentistry.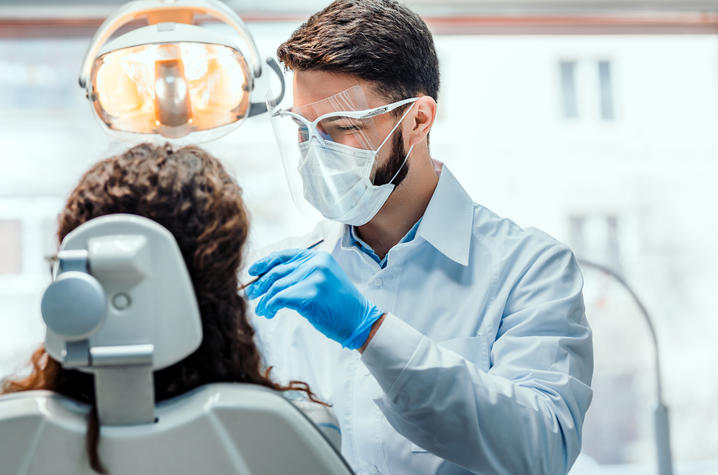 After limiting dental care services to support only urgent visits for some time, many dental practices have now reopened to support elective dental procedures. Your next visit to the dentist will likely look a little different as healthcare providers work to safely offer treatments and reduce the chance of COVID-19 transmission by operating under increased safety guidelines offered by governing bodies such as the American Dental Association (ADA). The following are a few changes patients can expect at their next dental visit.
Before reaching the dental office, patients should expect to be asked screening questions to help gauge their current health. These questions, as well as a temperature check, will be asked again when arriving at the dental office. Dental office personnel are also undergoing these daily checks.
Patients will likely have updated guidelines to follow when entering and exiting their dental appointment. Offices have worked to avoid the use of waiting rooms by staggering patient arrivals, asking patients not to arrive too early, limiting the number of individuals who may arrive with a patient, and asking non-patients to wait outside of the dental office.
Inside the dental office, patients will likely see new plexiglass or clear barriers at places such as front office registration desks, signage to stay at least six feet away from others, and more hand sanitization stations throughout offices.
Dental offices have always been required to uphold strict infection control measures. These measures have increased due to COVID-19, requiring cleaning and sanitizing steps before, between, and after final patient appointments for the day. Additionally, common areas such as restrooms, front desks, and entrances are undergoing increased cleaning.
Dental team members wearing protective gear, such as gloves, masks, and glasses to reduce the risk of transmitting germs between patients and office personnel is nothing new. However, the current pandemic has reshaped necessary protective gear guidelines, requiring many dental care providers to adjust the amount and type of protective gear worn. Other dental office personnel, not directly involved with patient care, are now wearing face masks. Patients, and any necessary parental or guardian escorts attending appointments with patients, are also regularly asked to wear a face mask.
These steps and others provide a safer environment for patients to address their dental care needs, which support maintaining their overall good health.